Pork Tocino

Tocino simply means bacon in Spanish. It is typically made from pork belly. In the Philippines this dish usually served in breakfast. In cooking this food, all you have to do is frying it until the edges caramelize.

Filipinos usually accompany tocino with rice and egg and called it To-Si-Log. To-Si-Log means Tosino, Sinangag (fried rice) and itlog (egg).
It's a delicious sweet coated meat usually prepared by Asians. Many people here in the Philippines make tocino as their source of income. So if you want to start a business or just want to learn how to process it, here is recipe on how to make tocino;
Cooking Ingredients:
1kg Pork pigue (sliced)
1tbsp refined salt
½ tsp curing salt
1 cup refined sugar
2 tsp garlic powder
2 tbspanisado wine or any white wine
1 ½ cup of sprite or 7up
½ tsp meat enhancer
Red food coloring
Cooking Direction:
Step 1: Mix all the ingredients in a large bowl for 20-30 minutes. Cure it 8-10 hours at
room temperature.
Step 2: Refrigerate it 1-2 days.
Step 3: Remix and store it in freezer.
Step 4: Get a few slices (or an amount that you desire) of pork tocino in freezer
Step 5: Add a little water in the pan. Over medium heat, let the liquid boil off and then fry
the tocino for a couple more minutes. There's a lot of sugar in the marinade so make sure you don't burn the meat.
Step 6: Serve and enjoy.
Watch our YouTube Video on How to Make Pork Tocino
Watch our YouTube Video on How to Make Chicken Tocino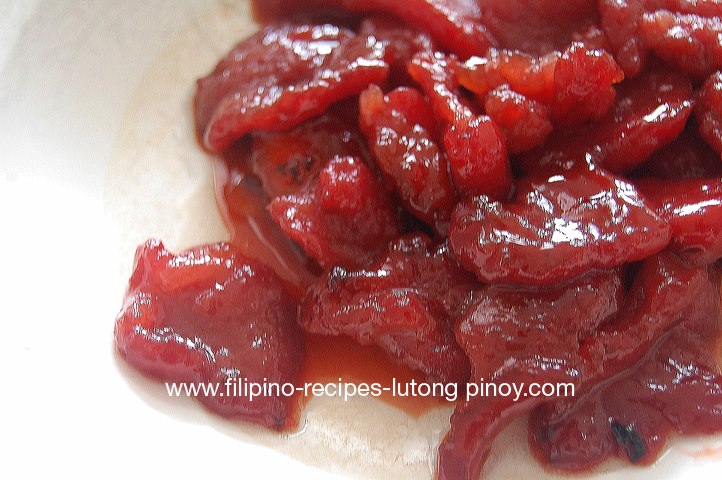 If you like the recipe you just found, please share it... 
---
Follow us on Social Media

What Do You Think About this Recipe? Anything You Want to Share?
Share it!