Chicken Mami
Filipino Recipe
Chicken Mami
Filipino Recipe

Are you craving for some hot and comforting soup dish on a rainy, cold and dreary day? Then the Chicken Mami or the Filipino's version of the Chicken Noodle Soup would surely satisfy that craving. This dish is one of the most popular comfort foods in the Philippines, just as hotdogs is to the United States. It is usually sold in "mamihan" or noodle houses, and is a staple in Chinese restaurants in the country.

This egg noodle soup has a very rich history. According to legend, a Chinese immigrant named Ma Mon Luk created this dish. He started out by peddling this on the streets of Manila and eventually, opened his own restaurant. The name comes from combining "Ma", his first name, and "Mie", for noodles.

The key to the success of this dish in the preparation of the broth and the rest would be very easy. This dish is very simple but you have to do it right so you can really savor the real taste of what Chicken Mami is.

Preparation time: 30 minutes
Cooking time: 1 hour
Yield: 3 - 4 servings
Ingredients:
½ kilo blanched fresh egg noodles or
1 pack egg noodles (8 oz), cooked
2 cups napa cabbage, shredded
salt and pepper
1 medium sized carrot, sliced thinly
patis (fish sauce)

Broth
1 kilo boneless chicken breast
1 small size onion, quartered
½ head garlic, crushed
1 tsp peppercorn, crushed
1 bunch spring onion
water

Garnishing
1 bundle spring onion, chopped
4 boiled eggs, sliced
½ head garlic, minced and fried
Cooking Directions:
1. Prepare the broth by boiling the chicken in a large pot along with the onion, garlic, peppercorn and spring onion. Add water equivalent to about 2" above the chicken. Bring it to a boil, cover and simmer for at least half an hour. Remove the froth or scum that rises.
2. Remove the chicken and set it aside for shredding later on. Keep the broth warm in the pot until it is ready to be served.
3. Slice or shred the chicken breast as thin as possible.
4. In a wide single serving bowl, put the blanched or cooked noodles, napa cabbage, sliced carrot and shredded chicken. Pour the hot broth in the bowl. Add salt and pepper to taste. Top it with the chopped spring onions, fried garlic and sliced boiled eggs for garnishing.
5. If desired, you can serve it with patis.
6. Enjoy!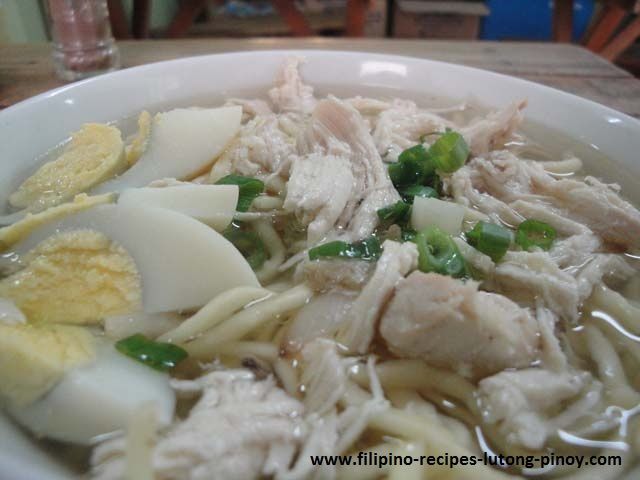 If you like the recipe you just found, please share it... 
---
Follow us on Social Media

What Do You Think About this Recipe? Anything You Want to Share?
Share it!