Buko Pandan Dessert
Buko Pandan Dessert

Another rich and tasty dessert that is similar to Fruit Salad and Buko Salad is the Buko Pandan. This dessert is distinct because it is enhanced by the aroma and flavor of the pandan leaves. This tropical plant grows abundantly in the Philippines and its blade-like leaves are used for cooking. Other Southeast Asian countries have also integrated this plant into their cuisines.

At first glance, it looks similar to the desserts mentioned above because it also contains buko (young coconut), table cream and condensed milk. The difference is in the green gelatin cubes which has the aroma and taste of the pandan leaves. This was first introduced in the southern province of Bohol.

It is prepared by boiling the pandan leaves in water until all its juices are released. The leaves are then removed and gulaman (gelatin bars) are added. The liquid mixture will now turn into a jelly, which is then cut into cubes. If pandan leaves are not available, pandan extracts or flavoring can be used instead, and it will give out the same flavor and aroma. Other variations have been introduced like adding nata de coco (fermented coconut water), kaong (sugar palm), pinipig (toasted glutinous rice), fruits and vanilla ice cream as topping.

This dessert is best served during the hot summer months or any time there is a gathering like birthday parties, fiestas and during the holidays. Enjoy this Buko Pandan recipe and have a taste of the Philippines.
    
Preparation Time:   20 minutes
Yield:   2-3 servings
Ingredients:
1 box unflavored, green-colored gelatin
1 ½ cups buko (young coconut) strips
1 cup Nestle cream
½ tsp pandan flavoring
5 oz condensed milk
1 jar (12 oz) nata de coco, drained (optional)
1 cup kaong (optional)
vanila ice cream (optional)
Cooking Directions:
1.    Prepare the gelatin according to the package directions. Add the sugar and pandan flavoring.
2.    Pour the mixture into a mold or square glass dish. Remove any solid particles with a strainer. Allow it to cool and let it set. For faster results, you can refrigerate for about an hour after it has set. Once it has hardened, cut them into half inch cubes.
3.    In a mixing bowl, combine the gulaman cubes with the buko strips, condensed milk, cream, nata de coco and kaong. Mix thoroughly. Chill before serving.
4.     Transfer to a serving bowl or individual cups, and then top with a scoop of vanilla ice cream.
5.    Enjoy!

Buko Pandan Dessert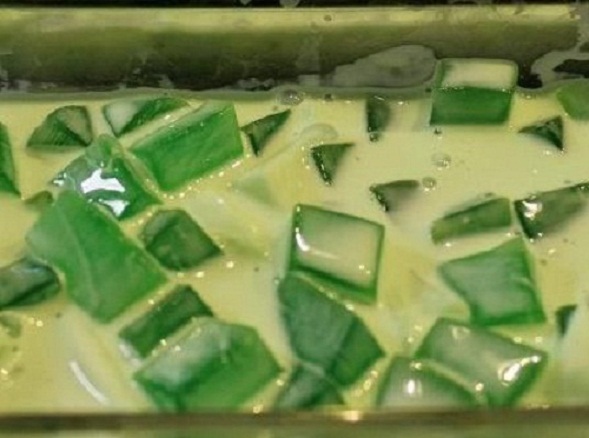 If you like the recipe you just found, please share it... 
---
Follow us on Social Media

What Do You Think About this Recipe? Anything You Want to Share?
Share it!