Pork Kilawin Recipe

Pork Kilawin Recipe

Let us first define and differentiate Kinilaw from Kilawin because there seems to be some confusion regarding these similar dishes. Kinilaw is soaking raw fish or seafood in vinegar solution which turns the fish opaque, and giving it a texture of being cooked. Kilawin, on the other hand, utilizes other types of meat instead of fish and seafood, like pig or goat. Kinilaw originated in the Visayas while the Kilawin originated in Pampanga, a province in Luzon. In international cuisines, the most similar to this dish would be the Ceviche, a popular seafood salad from Central and South America.
Although the Kinilaw and the Kilawin come from different regions of the country, the preparation is quite similar, but the distinctness lie in the use of ingredients found exclusively in that area. The diversity of each region is very evident in the dishes that they prepare and the pride that goes along with it.

In Pork Kilawin, the pork is boiled until tender, chopped and mixed with vinegar, onions and soy sauce, and of course some spices to perk up the flavor. This dish is not similar to sushi because you do not eat raw meat. Some people add some vegetables and fruits to their Pork Kilawin like tomatoes, garlic, cucumber or pineapple to enhance the flavor. Some even add coconut milk to make it creamier and richer.

This dish is usually served as an appetizer or pulutan, a side dish during drinking sessions, or with steamed rice. So here is a simple recipe to follow, and hope you enjoy this uniquely Filipino cuisine.

Preparation Time; 10 mins
Cooking Time: 30-40 mins
Yield: 5-7 servings
Ingredients:
1 kilo pork meat
½ cup vinegar
1/3 cup soy sauce
3 medium sized tomatoes, chopped
4 cups water
5 pcs red or green siling labuyo (chili)
1 large onion, chopped
1 tsp salt, minced
1 ½ tsp black pepper
Cooking Directions:
1. In a large pot, add the pork skin, water, salt and pepper, and bring to a boil. Cover and let it simmer for about 20 minutes or until the skin is soft and the meat is tender.
2. Take the pork skin out of the pot and cut it into bite-sized pieces while it is still hot.
3. In a large serving bowl, mix together the sliced pork, vinegar, soy sauce, siling labuyo, tomatoes and onions.
4. Serve right away.
5. Enjoy!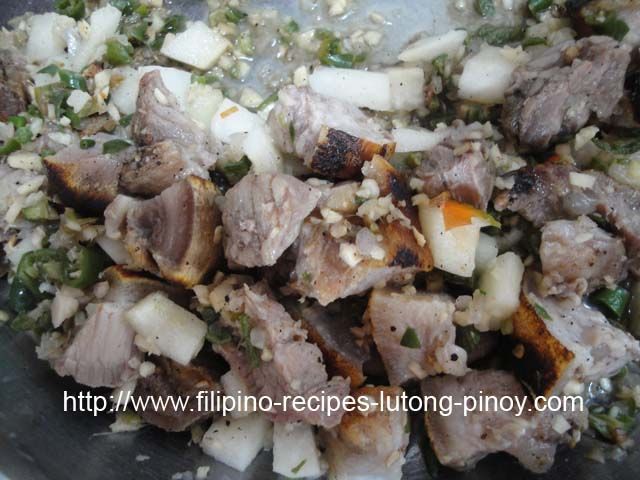 If you like the recipe you just found, please share it... 
---
Follow us on Social Media

What Do You Think About this Recipe? Anything You Want to Share?
Share it!