Tortang Talong
(Eggplant Omelette)

Tortang Talong
(Eggplant Omelette)

Another uniquely Filipino dish that almost all Filipinos have grown up eating is Tortang Talong or Eggplant Omelette. An omelette is a dish that is made out of potatoes and ground beef. The common variations found in the Philippines is the Tortang Alimasag which is an omelette made out of crab meat, and this dish which is made out of eggplant.

The eggplant is a very abundant in the Philippines and is used in a lot of dishes. The plant produces a fruit (yes, it is a fruit) that is commonly used in cooking. It is closely related to the potato and tomato. It is fleshy and has a meaty texture. It is classified as a berry, and has a lot of soft and small seeds which are edible, but tastes bitter. When in its raw state, it can have a bitter taste, but cooking makes it tender and the flavor becomes more rich and complex.

This dish was not invented in the Philippines but is quite similar to the Spanish dish called Berenjenas Rellenas or stuffed eggplant. Our version is quite simple, easy to prepare, and very budget-friendly. The cooking involves two stages. The first stage is cooking the eggplant, either by roasting, grilling, steaming or boiling in water. The second stage is preparing the batter made of scrambled eggs, and then it is ready for frying.

Preparation Time: 15 mins
Cooking Time: 20 mins
Yield: 4 servings
Ingredients:
4 large eggplants
2 eggs, beaten
1 tsp salt
½ tsp ground black pepper
cooking oil

Cooking Directions:
1. Heat the grill before cooking. Pierce the eggplants all over with a fork. Roast the eggplants until the skin is slightly burnt or almost black.
2. Let them cool off then carefully remove the skin, leaving the stems on. Set them aside.
3. Beat the eggs and add salt and pepper.
4. With a fork, flatten the eggplants, and pour the egg mixture over them.
5. Heat the cooking oil. Holding them by the stem, fry the eggplants for about 3 to 4 minutes on every side until they turn golden brown. Turn them once to even the color and to ensure that it is cooked thoroughly. Transfer to a serving plate lined with paper towel to remove excess oil.
6. Serve hot. This is best served with rice or as a side dish.
7. Enjoy!
Tortang Talong (Eggplant Omelette)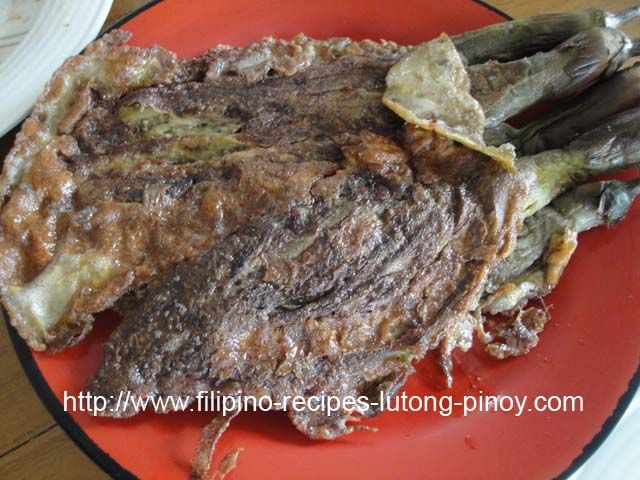 TORTANG TALONG
(WATCH THE VIDEO BELOW)
If you like the recipe you just found, please share it... 
---
Follow us on Social Media

What Do You Think About this Recipe? Anything You Want to Share?
Share it!