Sweet and Sour Pork
Sweet and Sour Pork

Another popular dish that has been adapted in the Filipinos cuisine is the Sweet and Sour Pork. If you got to any Chinese restaurant all over the world, you will surely find this in their menu. It is believed that this dish has Cantonese origin.

You could say that this dish requires a two-step process, but they're easy to do. The first step is to cut the meat into bite-sized pieces, and then dredged in cornstarch or flour.
They are then deep-fried until they become crispy. The second step is to make the sweet and sour sauce which is basically made by combing catsup, sugar and soy sauce. Vegetables such as green pepper, pineapple and carrots are also added to make this dish unique and flavorful. The meat is then stir fried together with the sauce and the rest of the vegetables.

The combination of the sweetness and the little sourness makes this an unforgettable dish. You can adjust the flavors to suit your preference, whether you like it a little on the sweet side or on the sour side.

Preparation Time:   10 minutes
Cooking Time:   45 minutes
Yield:   4-6 servings

Ingredients:
1 kilo pork loin, cubed
¾ cup flour
2 tbsp soy sauce
salt
pepper
cooking oil
2 medium sized onions, cubed
3 cloves garlic, minced
1 red bell pepper, cubed
1 green bell pepper, cubed
1 small carrot, sliced diagonally
1 small can pineapple chunks
    
Sauce
½ cup meat broth
3 tbsp corn starch
2 tbsp soy sauce
2 1/2 tbsp tomato catsup
1 tbsp sugar
Cooking Directions:
1.    Combine the flour with a little salt and pepper in a dish. Mix the soy sauce and pork loin together in a bowl.
2.    Dip the pork cubes into the flour mixture and coat them well.
3.    Heat the oil in a frying pan and deep fry the pork cubes for about 10 minutes or until they turn golden brown. Transfer them to a serving dish and set aside.
4.    To prepare the sauce, dissolve the cornstarch in the meat broth. Add the soy sauce, catsup and sugar.
5.    In a pan, sauté the onions and garlic until soft. Add the carrot, bell peppers and pineapple chunks (with the juice) and cook for about 2 minutes or until they are tender. Pour in the sauce and stir constantly until it thickens.
6.    Pour on top of the fried pork. Serve hot with rice.
7.    Enjoy!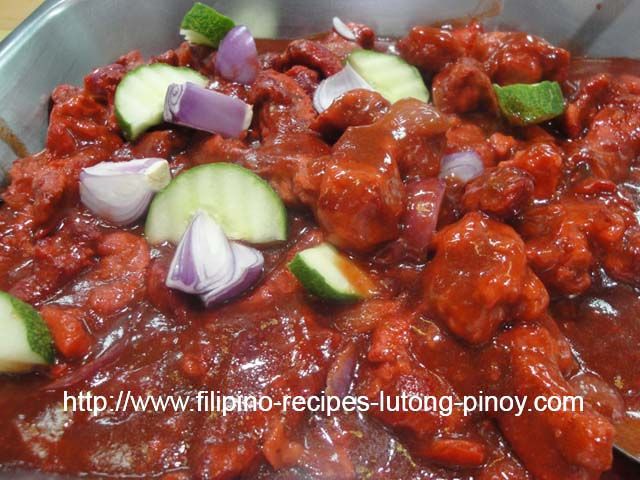 If you like the recipe you just found, please share it... 
---
Follow us on Social Media

What Do You Think About this Recipe? Anything You Want to Share?
Share it!