Pancit Palabok
Filipino Recipe

Pancit Palabok Filipino Recipe


Any celebration or gathering, especially a birthday party, in the Philippines is not complete without any kind of a noodle dish. It just isn't complete without it. It could be from the kid-friendly Spaghetti, to Pancit Sotanghon, Pancit Bihon, Pancit Canton, etc. They may vary in the noodles used, to the ingredients, and the cooking process but they are similar in their delicious flavor and its uniquely Filipino taste.

The Pancit Palabok is another popular noodle dish that is also ever present in large gatherings. It is similar to Pancit Luglug with the difference being in the noodles used. Both are made of round rice noodles, but the Pancit Palabok uses bihon while the Pancit Luglug's noodles are thicker. The noodles are boiled, and then topped with a sauce that is flavored with shrimp, and achuete (annatto) is added for color. Palabok literally means garnishing and the most common toppings used are crushed pork rind, shrimps, strips of pork, tofu, smoked fish flakes, hard boiled eggs, green onion, fried garlic, etc.
Enjoy this Pancit Palabok Filipino recipe!

Preparation Time: 20 mins
Cooking Time: 30 mins
Yield: 4-6 servings

Ingredients:
8 oz bihon (rice noodles)

Sauce
3 tbsp achuete (annatto) seeds
6 tbsp all-purpose flour
2 tbsp patis (fish sauce)
cooking oil
pepper

Garnishing
½ lb ground pork
½ lb shrimps, shelled and cooked
2-3 hard boiled eggs, sliced
3 tbsp fried garlic
½ cup chicharon (pork rind), crushed
½ cup tinapa (smoked fish) flakes
2 stalks green onion, chopped
Cooking Directions:
1. In a bowl, soak the noodles in water for about 15 minutes. Drain the noodles and set them aside.
2. Heat the oil and add the achuete seeds to bring out the color. Remove the seeds and leave the achuete oil in the pan. Set aside.
3. In another pan, heat the oil and fry the ground pork for about 5 to 7 minutes until it turns golden brown. Set aside.
4. Boil the shrimp shells in water for about 3 to 4 minutes. Remove the shells, and then gradually add the flour. Stir constantly. Add the achuete oil mixture, pepper and fish sauce. Let it simmer until the sauce thickens. Set aside.
5. Before serving on a plate, submerge the noodles in hot water for one minute with a strainer. Drain the noodles.
6. To serve, transfer a serving of noodles on a plate. Top it with some sauce and garnish with the tinapa flakes, shrimp, ground meat, fried garlic, boiled eggs, chicharon and green onion.
7. Sprinkle the top with a little calamansi juice.
8. Enjoy!
Pancit Palabok Filipino Recipe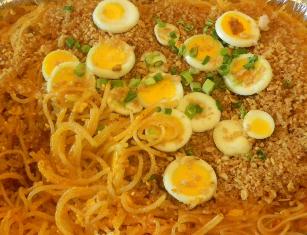 If you like the recipe you just found, please share it... 
---
Follow us on Social Media

What Do You Think About this Recipe? Anything You Want to Share?
Share it!