Barbecue Chicken Recipe

Barbecue Chicken Recipe

There are several ways of grilling or barbecuing meat parts. In some countries, before grilling, the meat is first seasoned with a dry rub, and then barbecue sauce is applied over it. In the Philippines and in other Asian countries, it is first marinated in a sauce before the grilling process. 

The Philippines is known for its popular street food, the Pork Barbecue. You could see it in practically every street corner being cooked in food carts especially at night. This savory as well as sweet finger-licking good delight is on top of everyone's list because it just tastes divine. If you don't eat or like pork, you could very well order Barbecue Chicken instead. It is virtually the same as its pork version in terms of the ingredients in the marinade and the cooking process. Of course, it will vary in the taste and flavor.

This dish will never leave you disappointed because the chicken, aside from being so flavorful, is very moist. It has the right amount of sweetness in it as well as the sourness of the calamansi juice, a local lemon. Whether you order it in a restaurant or along the street, it is best served with fried rice with a side order of atchara (pickled unripe papaya).

Preparation Time:   depends on marinating time
Cooking Time:   1 hour
Ingredients:
4 pieces chicken thighs or legs
1/2 cup banana catsup
1/2 cup soy sauce
1/2 cup sugar
8 oz 7 Up or Sprite
1/4 cup calamansi or lemon juice
6 cloves garlic, minced
1 tsp pepper
Cooking Directions:
1.    In a large mixing bowl, combine together the soy sauce, garlic, calamansi or lemon juice, soda, pepper, banana catsup and sugar. Whisk them well making sure that everything is mixed well. Add the chicken pieces, and with your bare hands, mix all the ingredients together.
2.    Marinate the chicken covered in the refrigerator overnight. The longer you marinate it, the better the flavors will develop.
3.    Remove the chicken pieces. In a sauce pan, pour in the marinade. Bring to a boil and simmer for about 5 minutes or until it has reduced to a syrup.
4.    Grill them on a gas grill or charcoal for about 15 to 20 minutes on each side until both sides are done. Baste the chicken with the marinade every time the meat is tuned.
5.    Transfer to a serving plate and serve with rice and atchara.
6.    Enjoy!

Barbecue Chicken Recipe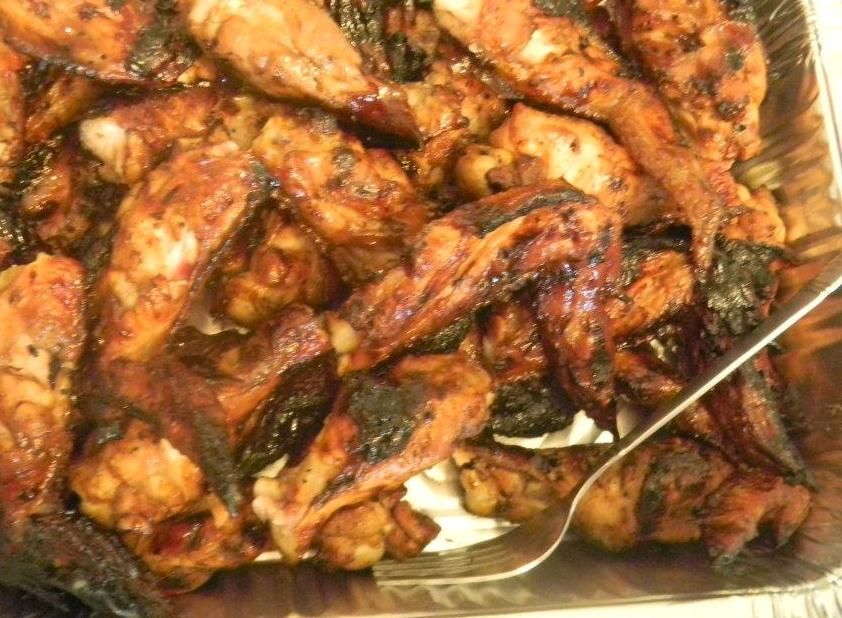 If you like the recipe you just found, please share it... 
---
Follow us on Social Media

************************************************************
You might like our other Chicken Filipino Recipes .....

What Do You Think About this Recipe? Anything You Want to Share?
Share it!