Inihaw na Liempo
(Grilled Pork Belly)
Inihaw na Liempo
(Grilled Pork Belly)

Grilling meat, either fish or pork, is part of the Filipino cuisine, and we make it the traditional way which is using charcoal. One part of the pig that we love to grill is the belly, which is known as liempo. The dish is called Inihaw na Liempo or Grilled Pork Belly. Inihaw is the Tagalog word for grilled, while in the southern parts of the country, it is called Sinugba.

This cut of meat is boneless and is full of fat, so for the health-conscious and vegetarians, this might not be appealing to them. The fatty portion gives moistness and flavor to the meat, that's why it is the favorite cut for grilling. The fat content also adds tenderness to the meat. This cut is also popular in other Asian and European cuisines.

The process starts with marinating the meat in a mixture of vinegar, soy sauce, garlic, salt and pepper. The marination lasts for a couple of hours in order for the flavor to really seep into the meat. It is then grilled to perfection. Over grilling it will render the meat chewy and rubbery. The traditional dipping sauce is a combination of toyo't suka (soy sauce and vinegar) or bawang at suka (garlic and vinegar).
    
This dish is quite simple to make and the taste is out of this world. It is best eaten with your bare hands, just make sure that they are clean. It also goes best with steamed rice and a side dish of a vegetable salad.
    
So the next time you take the grill out, try to grab some pork belly from the market and try this recipe. It is guaranteed that you will love it, and you will be making some more.

Preparation Time:   3 hours
Cooking Time:   30 mins
Yield:   4-6 servings
Ingredients:
1 kilo pork belly, sliced into 1/2 " thick pieces
juice from 4 pcs calamansi
½ cup soy sauce
5 cloves garlic, crushed
3 tbsp vinegar
½ cup Sprite or 7UP
1 tsp sugar
salt and pepper to taste
Cooking Directions:
1.    Combine all the ingredients together in a large bowl. Add the meat and marinate for at least 3 hours in the refrigerator.
2.    Grill the pork pieces for about 10 minutes on each side or until it is done without burning it.
3.    Baste the meat with the marinade to keep it moist and juicy.
4.    Remove from grill and slice into strips.
5.    Serve hot with steamed rice and your favorite dipping sauce.
6.    Enjoy!  

Inihaw na Liempo (Grilled Pork Belly)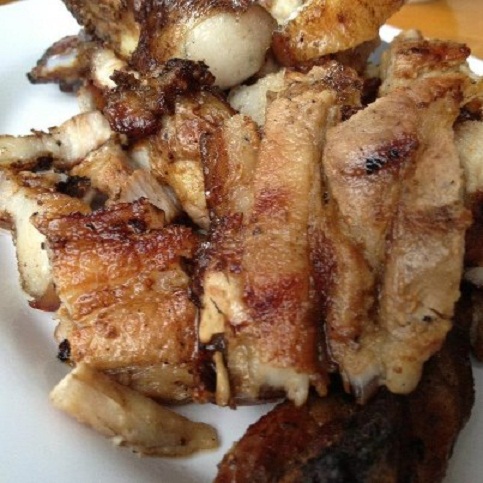 If you like the recipe you just found, please share it... 
---
Follow us on Social Media

What Do You Think About this Recipe? Anything You Want to Share?
Share it!