Ginataang Gulay
(Vegetables Simmered in Coconut Milk)
Ginataang Gulay
(Vegetables Simmered in Coconut Milk)

Any Filipino dish that has gata or coconut milk as an ingredient is called a Ginataan. Literally, it means "done with coconut milk". Being a country in the tropics, there is an abundance of coconuts, hence the different viands that we have created with its milk.

This cooking technique involves simmering seafood, vegetables or fruits in coconut milk, and could either be savory or sweet but totally distinct from one another. There is Ginataang Alimango (crabs), Ginataang Hipon (shrimps), Ginataang Adobo, and simply Ginataan, a warm and sweet dessert soup served as a mid-afternoon snack.

Ginataang Gulay is a stew-like dish usually prepared with different kinds of vegetables – eggplant, sitaw (green beans), okra, squash, ampalaya (bitter melon). Meat and seafood are also added to add more taste and flavor. The squash adds an earthy flavor to this dish, while the sitaw adds a light crunch and fresh taste.

This is a very common homemade dish and is usually prepared for lunch or dinner with steamed white rice. You might want to ask for another cup of rice for this meal for it will surely increase your appetite, and will keep you asking for more. This is a very healthy, as well as a satisfying option with all these vegetables in it, so try it now.

Preparation Time: 30 minutes
Cooking Time: 30 minutes
Yield: 6-8 servings

Ingredients:
1 lb. shrimp, peeled and deveined
1/2 lb sitaw (green beans), cut into 2" length
2 eggplants, cut into 1/2" thick rounds
2 ampalaya, deseeded and cut into ½" thick strips
4 cups squash, cubed
6 pcs okra, sliced
1/2 tbsp ginger, sliced thinly
1 medium sized onion, sliced
2 cloves garlic, minced
1 cup water
1 ½ cups coconut milk
vegetable oil
2 tbsp fish sauce
salt
pepper
Cooking Directions:
1. Wash and prepare the vegetables.
2. Heat the oil. Saute the garlic, onion and ginger for about 5 minutes.
3. Add the fish sauce. Let it simmer for a couple of minutes. Stir occasionally.
4. Add the coconut milk and water. Continue to simmer until the mixture has reduced and thickened.
5. Add the shrimp and stir constantly for 5 minutes. Add the squash and cook for about 2 minutes or until it becomes soft. Add the okra, eggplant, sitaw, and then the ampalaya at 2 minutes apart. Season with salt and pepper.
6. Transfer to a serving dish and serve hot.
7. Enjoy!
Ginataang Gulay (Vegetables Simmered in Coconut Milk)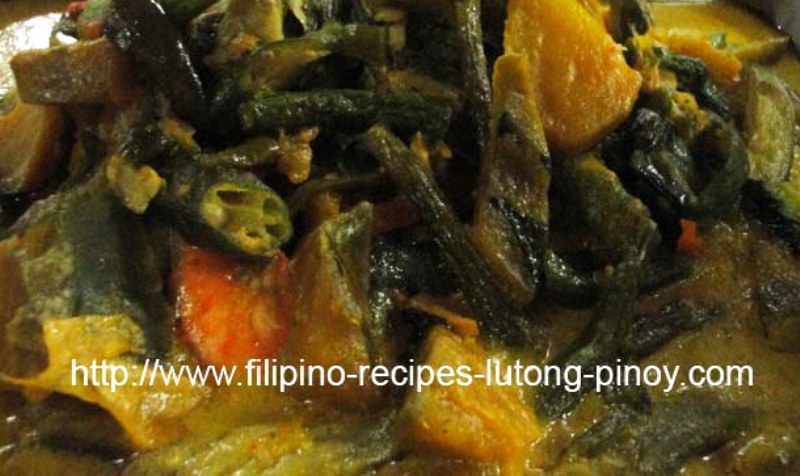 If you like the recipe you just found, please share it... 
---
Follow us on Social Media

What Do You Think About this Recipe? Anything You Want to Share?
Share it!