Cornsilog
(Corned Beef, Sinangag at Itlog)

Cornsilog (Corned Beef,
Sinangag at Itlog)

As the saying goes, you should eat breakfast like a king, and we Filipinos take this phrase to heart. Our breakfasts could be considered heavy by other countries' standards. It usually consists of fried rice, eggs and some form of meat or dried, salted fish, and maybe some pan de sal (bread). Eating cereal is just not enough for us.
The most common breakfast combo is the Silog dish. It is a play for the words SInangag (fried rice) and itLOG (egg). The most popular is the Tapsilog, which is the addition of TAPa, a dried or cured beef slice. This dish has brought forth other combinations of fried rice and fried egg as the suffix, and a shortened form of the meat viand in the prefix. For example, there is Bangsilog (bangus), Hotsilog (hotdog), Chiksilog(fired chicken), Tosilog (tocino), Litsilog (lechon), Adosilog (adobo), and the list goes on and on.

This recipe is called Cornsilog, for CORNed beef. This dish is a creative way of preparing canned corned beef which is a staple in most households. The corned beef is sautéed with garlic and onions with diced potatoes for that added texture. This is a really simple and easy to prepare breakfast meal that will surely fuel you up for the day's activities.

Preparation Time:   10 minutes
Cooking Time:   15 minutes
Yield:   4-6 servings
Ingredients:
1 16 oz can corned beef
1 medium sized onion, sliced thinly
3 cloves garlic, minced
1 large potato, peeled and diced
½  cup water
salt and pepper to taste
cooking oil

Fried Rice:
6 cups day old steamed rice
6 cloves garlic, minced
2 tsp salt
cooking oil
Cooking Directions:
1.    Heat the oil in a skillet and fry the diced potatoes until they turn light brown. Set them aside.
2.    In the same pan, sauté the garlic and onion. Add the corned beef and water. Simmer for a couple of minutes.
3.    Add the potatoes and simmer for another 2 to 3 minutes or until the potatoes are tender. Add salt and pepper to taste.
4.    For the fried rice, mix the rice and salt together. Heat the oil in a pan.
5.    Saute the garlic until they turn brown and crispy. Reserve some for the topping.
6.    Add the rice and mix well. Cook for about 2 to 3 minutes.
7.    Transfer to a plate and top with the fried garlic.
8.    Serve hot with the corned beef and fried egg.
9.    Enjoy!

Cornsilog (Corned Beef, Sinangag at Itlog)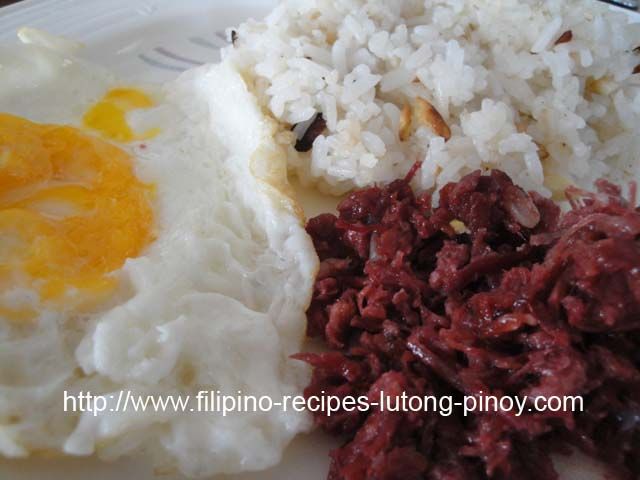 Your first paragraph ...
If you like the recipe you just found, please share it... 
---
Follow us on Social Media

What Do You Think About this Recipe? Anything You Want to Share?
Share it!