Suman Filipino Recipe
Suman Filipino Recipe

One of the famous kakanins (snacks made with malagkit or glutinous rice) in the Philippines is the Suman. The malagkit is cooked in coconut milk and is cooked by steaming in banana leaves or coconut fronds. Uncooked rice can also be used in making Suman. It is cooked for several hours in water, and then cooked submerged in coconut milk or water.

Suman could also be described as a rice cake in a tube form. Each region of the country has its own distinct way of preparing Suman. It could vary in the ingredients, the way of cooking, the method of wrapping or the accompaniment that goes with it. In the Visayas, it is called Budbod. There is also Suman sa Binuo, Suman sa Ibus, Suman sa Inantala, Suman Kamoteng Kahoy (Cassava), Suman sa Lihiya and Suman Wilmacale.

It is usually eaten with sugar or latik (the leftover part after the coconut milk is simmered). Aside from being a very filling and delicious snack food, Suman is also best eaten at breakfast time with hot chocolate. Some prefer dipping it in chocolate or coconut jam.

The Suman Filipino recipe below uses glutinous rice that has been cooked in coconut milk. It doesn't matter how you make it, it is guaranteed that you will love this sweet treat.

Preparation Time: 15 mins
Cooking Time: 2 hrs
Yield: 8 pcs
Ingredients:
1 cup glutinous rice, soaked in water for 3 hrs
½ tbsp salt
1 cup fresh or canned coconut milk
banana leaves for wrapping
water for boiling
Cooking Directions:
1. Remove the water from the rice by straining, then cook it in coconut milk and salt.
2. For the wrapping, pass the banana leaves over an open flame very quickly. This process will release the aroma of the leaves and will make them soft and flexible. If the leaves are frozen, wash them in warm water. Cut the leaves by making equal number of large and small pieces.
3. Lay the smaller piece of banana leaf on top of the larger piece. Put about ¼ cup or 3 tablespoons of the cooked rice in the middle.
4. Arrange the banana leaves by placing the larger leaf first in a flat surface then put the smaller leaf in the center of the larger leaf.
5. Wrap the rice as securely as possible with the smaller piece and fold the sides. Wrap it again with the larger piece to serve as double protection.
6. In a steamer, stack the suman with the seam sides facing down. Steam for around one hour over boiling water. Make sure they are tender before removing them from the steamer.
7. Allow it to cool before unwrapping so that it will firm up.
8. Serve with sugar, grated coconut or latik.
9. Enjoy!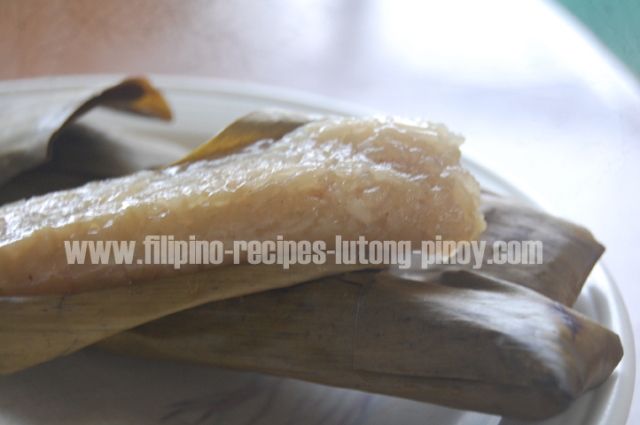 If you like the recipe you just found, please share it... 
---
Follow us on Social Media

What Do You Think About this Recipe? Anything You Want to Share?
Share it!