Adobo Chicken
Filipino Recipe
(Spicy Chicken Adobo)
Adobo Chicken

Chicken Spicy adobo is one of the most famous Filipino dishes in the world. Many people have their own preferences which led them to create their own style of cooking this delicious dish.

The word "adobo" means seasoning which people usually add vinegar and soy sauce to pork/chicken. This is originated from about 16th -17th century when the Philippines was under the Spanish government. But some sources emphasize that Filipino already cook adobo before Spaniards invade Philippines.
Adobo is a part of the Philippine culture which each and every Filipinos love. Until now, Adobo is still the best Filipino dish which everyone loves. And it's really delicious, you can serve it in any occasion you have. If you are familiar with this dish, you can also create your own version of chicken adobo. Several people add ingredients such as butter or sauce in order to add flavor to this dish. But it's best if you will serve this with rice. And the great part about this is you don't have to be skilled in cooking because it's really easy for this to cook and even beginners can do it. Just follow the procedures and everything would be fine. Goodluck.
Adobo Chicken Ingredients:
1 whole Chicken (cut into parts)
½ cup soy sauce
1 whole garlic (chopped)
2tbsp Olive Oil/ cooking oil
1tsp iodized salt
2tbsp brown sugar
1tsp black pepper
1/2cup vinegar
2bay leaves
1 chopped red onion
1 ½ tsp chili powder
¼ cup water

Cooking Direction:

Step 1: Marinate the sliced chicken with soy sauce, black pepper and salt into the bowl
for 20-30mins. (This process is to tenderize and give savory taste to the chicken). Set aside.
Note: While you are waiting for step 2 to be finished, heat pan add olive oil.
Step 2: After heating, saute chopped garlic into the frying pan until it turned brown. Add sliced onions then the marinated chicken parts.
Step 3: Cover the pan and simmer for 3-5 minutes.
Step 4: Add vinegar, brown sugar, ¼ cup water and laurel leaves; Mix and cover again.
Wait until the chicken becomes tender.
Note: Stir and cook for 10 minutes.
Step 5: Turn the heat off, serve and enjoy.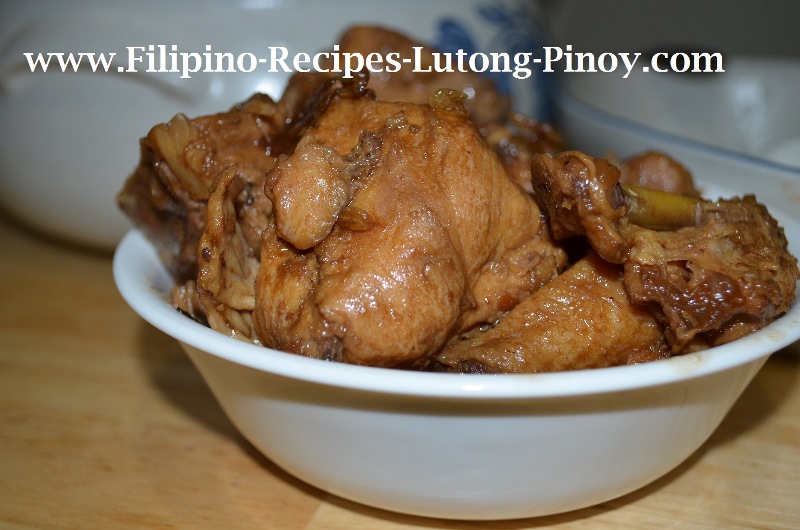 Watch our cooking video on YouTube ...

Learn more about adobo chicken.

| | |
| --- | --- |
| Chicken Adobo using Chicken thighs, legs and breast. | Chicken Adobo using Chicken White Meat or Breast Only |
If you like the recipe you just found, please share it... 
---
Follow us on Social Media

************************************************************
You might like our other Chicken Filipino Recipes .....

What Do You Think About this Recipe? Anything You Want to Share?
Share it!