Tokwa at Baboy
(Fried Tofu Recipe)

Tokwa at Baboy
(Fried Tofu Recipe)

Do you want to eat healthy with a little touch of the goodness of pork? One of the best known appetizers or side dishes in the Philippines is Tokwa at Baboy (Tofu and Pork). This yummy dish combines fried tofu and pork, usually the belly and ears, as well as vinegar, soy sauce and spices. The use of tofu is one of the Chinese influences in our cuisine.

Tofu is a healthy meat alternative because it is high in protein and low in fat. It looks like cheese and is very bland and soft. It is made from curdled soybean milk which is then pressed to form into blocks.

Since tofu and pork are generally bland in taste, the infusion of the saltiness of the soy sauce and sourness of the vinegar as they are being absorbed makes this dish quite unique and worth coming back for. The onion, pepper, and garlic also give it an extra kick of spiciness.

This goes best with our favorite rice porridge dishes like Goto and Arroz Caldo. For some people, good beer and wine complements this tasty appetizer. If you haven't tried tofu before, this might turn you into a fan because it tastes like real meat. Try this Tokwa at Baboy recipe and you will be amazed at this duo of tofu and pork. You might even wonder why you haven't tried this before.

Preparation Time: 10 mins
Cooking Time: 1 hr 30 mins
Yield: 6 servings

Ingredients:
½ kilo pig's ears
½ kilo pork liempo (belly)
5 pcs tokwa (tofu)
1 cup soy sauce
1 cup vinegar
2 cloves garlic, minced
2 small onions diced
1 tsp brown sugar
1 tsp salt
1 tsp pepper
cooking oil

Cooking Directions:
1. In a pot, boil the pig's ears and liempo in water with salt and pepper. Allow it to simmer until the meat is tender. It could take between 30 minutes to 1 hour. Remove from pot and set aside.
2. Heat the cooking oil in a pan and fry the tokwa until it turns to golden brown. Remove from pan and cut into bite-sized pieces. Cut the meat into the same size as well.
3. Mix the soy sauce and vinegar in a pan and bring to a boil. Add the brown sugar. Add the rest of the ingredients after it cooled off.
4. Transfer the meat and tokwa in a serving dish and pour the mixture over them.
5. Serve hot.
6. Enjoy!
Tokwa at Baboy (Fried Tofu Recipe)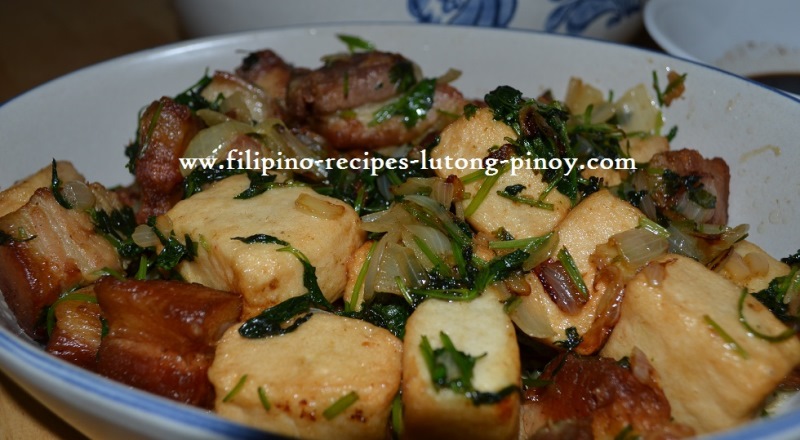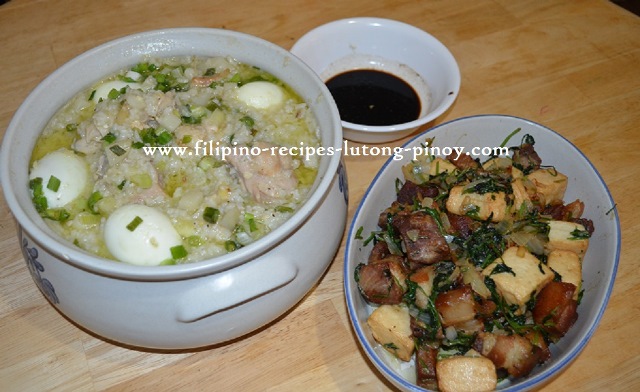 Tokwat at Baboy and Arroz Caldo
a perfect combination!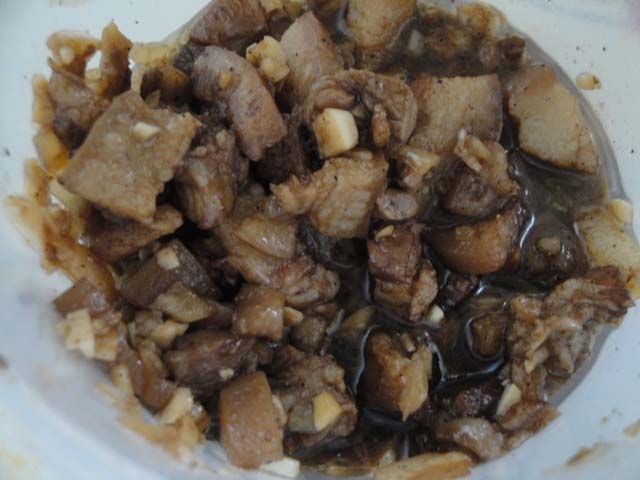 Watch how to make this recipe from our
YouTube Cooking Channel
If you like the recipe you just found, please share it... 
---
Follow us on Social Media

************************************************************
You might like our other Pork Filipino Recipes .....
What Do You Think About this Recipe? Anything You Want to Share?
Share it!