Fish Soup Recipe
(Tinolang Isda)
Fish Soup Recipe
(Tinolang Isda)

A typical meal in the Philippines is not complete without a bowl of hot soup. It could be made out of meat or noodles or whatever you can whip up. It goes best with rice and whatever viand you have, or it can be eaten by itself as the main dish, for nothing beats a steaming bowl of soup.
In the southern part of the country, a very popular fish soup is called Tinolang Isda. This very easy to prepare, affordable and delicious soup is very aromatic  because of the addition of the spicy ginger. In the northern part of the country, tinola refers to a chicken soup preparation with green papayas and chili leaves. They call it Tinolang Manok.

Practically any kind of fish can be used for this dish. The best ones are those that are the freshest catch of the day that you can find in the wet market. The most commonly used are tuna, tangigue (kingfish), pampano (pomfret) and lapu-lapu (grouper). The fish is boiled with onions, ginger, tomatoes and spring onions and seasoned with salt. Leafy vegetables, like kangkong (water spinach), malunggay and camote tops (sweet potato leaves), are also added to add to the richness and nutritional value of the dish.

So if you are tired of eating fried foods, give this soup dish a try. Not only is it delicious, it is also very healthy because you don't need any oil to cook it, and the fish and vegetables are rich in vitamins and minerals.

Try this recipe and get ready to be surprised and prepare to see fish in a different light.

Preparation Time:   10 minutes
Cooking Time:   30 minutes
Yield:   4-6 servings

Ingredients:
1 kilo fish
1 medium sized onion, quartered
2 medium sized tomatoes, quartered
1 thumb sized ginger, sliced
1 bundle spring onions, cut into 3" length
1 bundle kangkong (water spinach)
1 red bell pepper, sliced (optional)
6 cups water
salt

Cooking Directions:
1.    Clean the fish thoroughly. In a pot, add the water and bring to a boil. Add the tomatoes, ginger and onions. Simmer for about 3 to 5 minutes.
2.    Add the fish and continue simmering for another 5 minutes. Add the salt and season to taste.
3.    Add the spring onions, kangkong and red bell pepper. Continue cooking for another 5 minutes or until the fish and vegetables are done.
4.    Transfer to a serving bowl and serve hot.
5.    Enjoy!

Fish Soup Recipe (Tinolang Isda)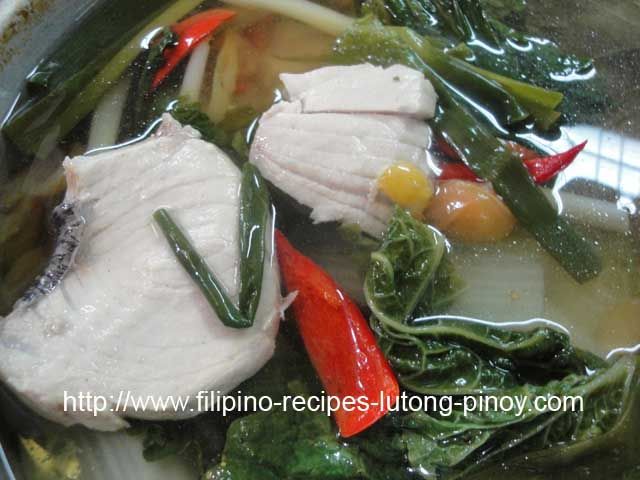 If you like the recipe you just found, please share it... 
---
Follow us on Social Media

************************************************************
You might like our other Fish and Seafood Filipino Recipes 
What Do You Think About this Recipe? Anything You Want to Share?
Share it!